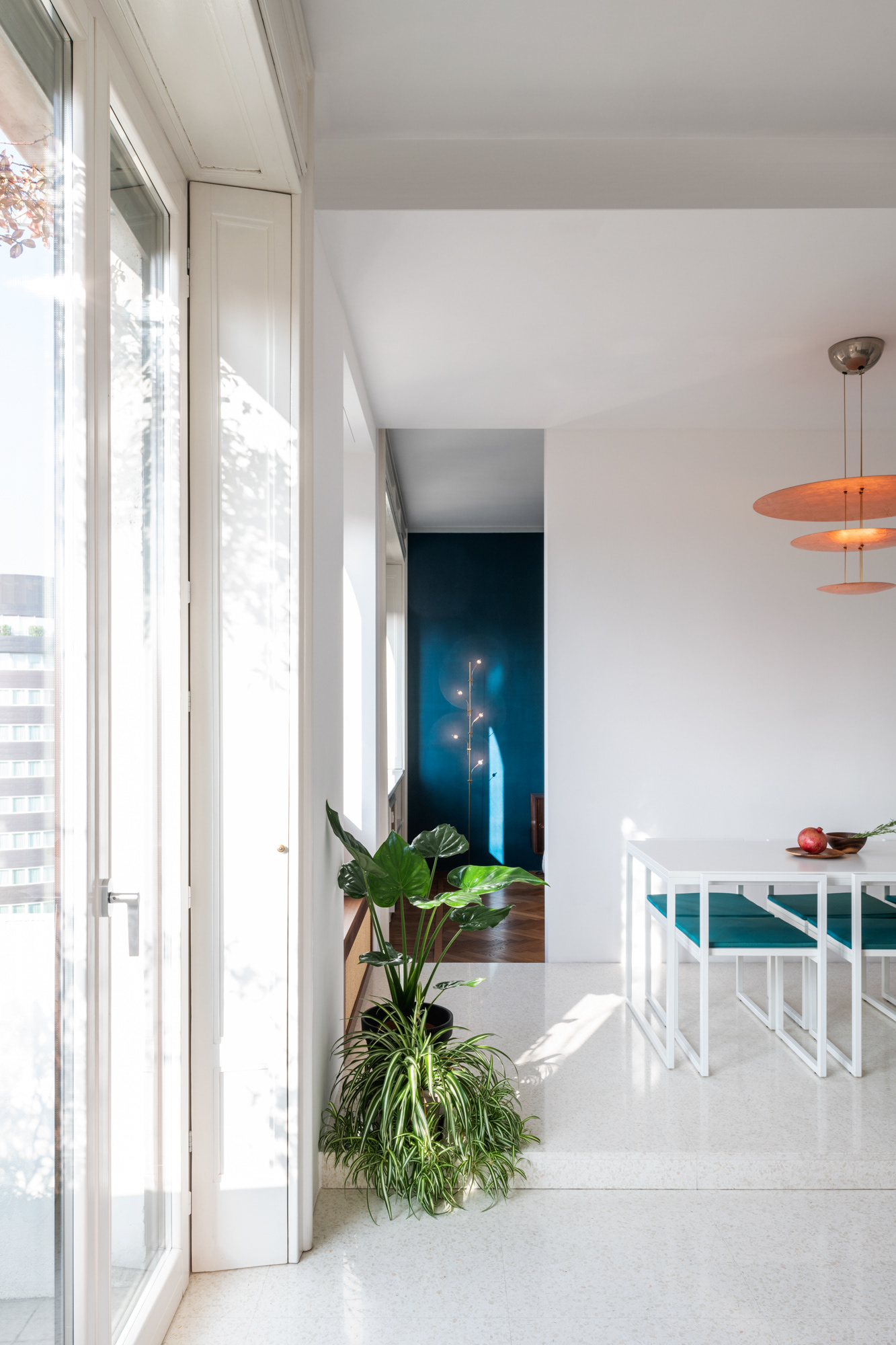 PROGRAM
The apartment is located on the sixth floor of a rigorous palace built in the early twentieth century. The panoramic view, which entirely embraces the skyline of Porta Nuova - from the Pirellone to the Unicredit Tower - is the spectacular strength of the apartment. A radical revision of the floor plan and the choice to use light finishes, which enlarge the perception of the space, are just two of the design ideas adopted to outline the new character of this panoramic residence with compact dimensions. In just 55 square meters there is everything needed: a well-equipped kitchen, a living room, a bedroom and a bathroom. 
The main and most significant changing was to place the dining area where the bathroom was originally located, repositioned near the entrance area, thus freeing the facade to create a path through the rooms that enhances the external view and amplifies the perception of the interior space. The wooden shutters and the Italian dowels Oak parquet of the bedroom have been kept from the original finishes. The rest of the house is covered with a light nuances of Terrazzo tiles, which make as a counterpoint to the bespoke furniture made in Walnut.
Although not really an open space, the apartment has no clear divisions between one functional area and another, but is marked by the presence of filter walls that allow visual communication between the various rooms. The wall which separates the living room from the sleeping area, conceived more as a perspective connection than as a physical separation, with its two twin passages on the sides acts as a backdrop to the monumental copper chandelier.
The furnishings do not follow a single stylistic line, but belong to distant "worlds". Many objects from clients' travels have been placed in the apartment: a Thonet rocking chair takes up the detail of the Vienna straw of the bespoke furniture. The armchair and the sideboard in the room, both vintages, come from Northern Europe. Coming from the East, on the other hand, the clay objects and the Persian carpet hanged above the head of the bed, a precious complement that declares the cosmopolitan soul of the owners.
DATA
Year: Concept Design / Schematic Design / Detailed Design / Site Supervision 2019 – 2020
Area: 55 sqm
Client: Private
Contractor: Building Contract
Carpenter and Fitter: Paolo Calvi
Window Fitters: BF Legno
Francesca Tagliabue, February 10, 2021