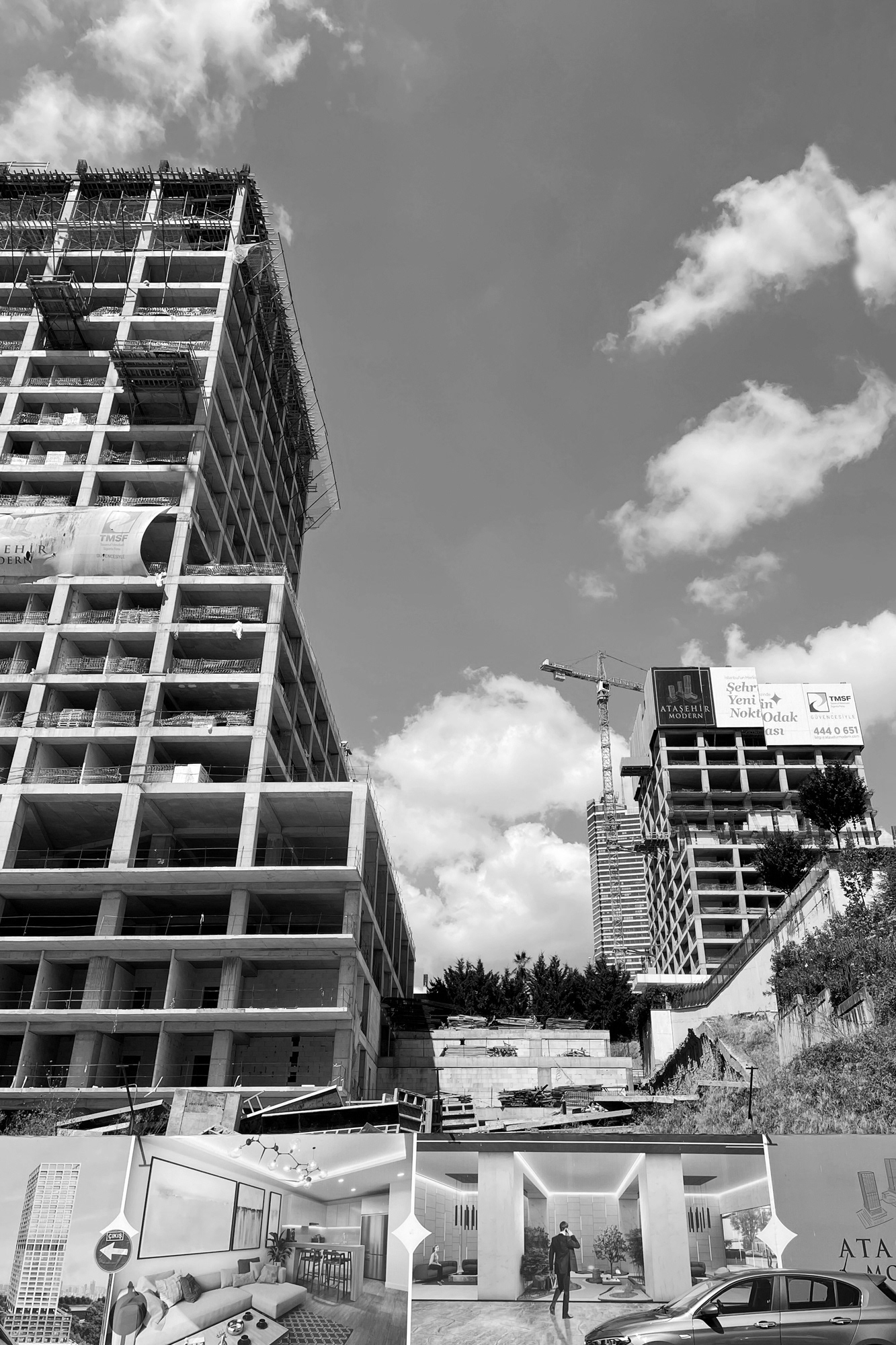 SERVICE
Masterplan Concept Design / Architectural Concept Design
PROGRAM
The project area is located in a growing district in the North-East part of Istanbul, characterized by very high-density residential buildings. As requested by the client, we had to combine a mix of different typologies: from studio units to larger and more traditional apartments, as well as a commercial part on the ground floor level. 
To combine these client needs with the natural slope of the land, we decided to hide the commercial part with an earth excavation on which we inserted the commercial part. Its roof is composed by different steep surfaces, which create a unique morphology with the terrain itself. Everything here is covered by green to create a continuous land where pedestrian walkways, vertical connections with the apartments and playgrounds used by the inhabitants are provided. Above this urban system three housing blocks are combined together to form a complex volume composition. 
The different apartment typology influences a different architectural expression. Terrace Apartments, for large families, have a strong relationship with the outdoor space by means of spacious terraces designed as real living rooms. Greenhouse apartments, instead, create a complex composition of the façade by the alternation of expandable green rooms connected to the interior space. Finally, the Studios, for singles or couples, have been aggregated into three towers, where the movable panels make up a pixel façade, which continuously changes its configuration. A unique modular framework, composed by vertical and horizontal lines, unifies all the different parts of the building, creating a regular and orthogonal aggregation, which forms a counterpoint with the ground floor inclined geometry. 
The towers will be covered with stone material that frames large regular openings, a chessboard composed of a circular perimeter of terraces and loggias, giving each housing unit a private outdoor space.
DATA
Location: Istanbul – Turkey
Year: Masterplan Design 2016 / Concept Design 2017 / Schematic Design 2017 / Detailed Design 2018 / Under Construction
Area: 180.000 sqm
Client: Lens Yapı Group
Design Partner: Arch. Francesco de Felice
Definitive and Detailed Project: Dome Asia
Structural Engineering: Balkar Mühendislik
Landscape Consultant: Tyla Peyzaj Mimarlığı
Sales Consultant: Areas