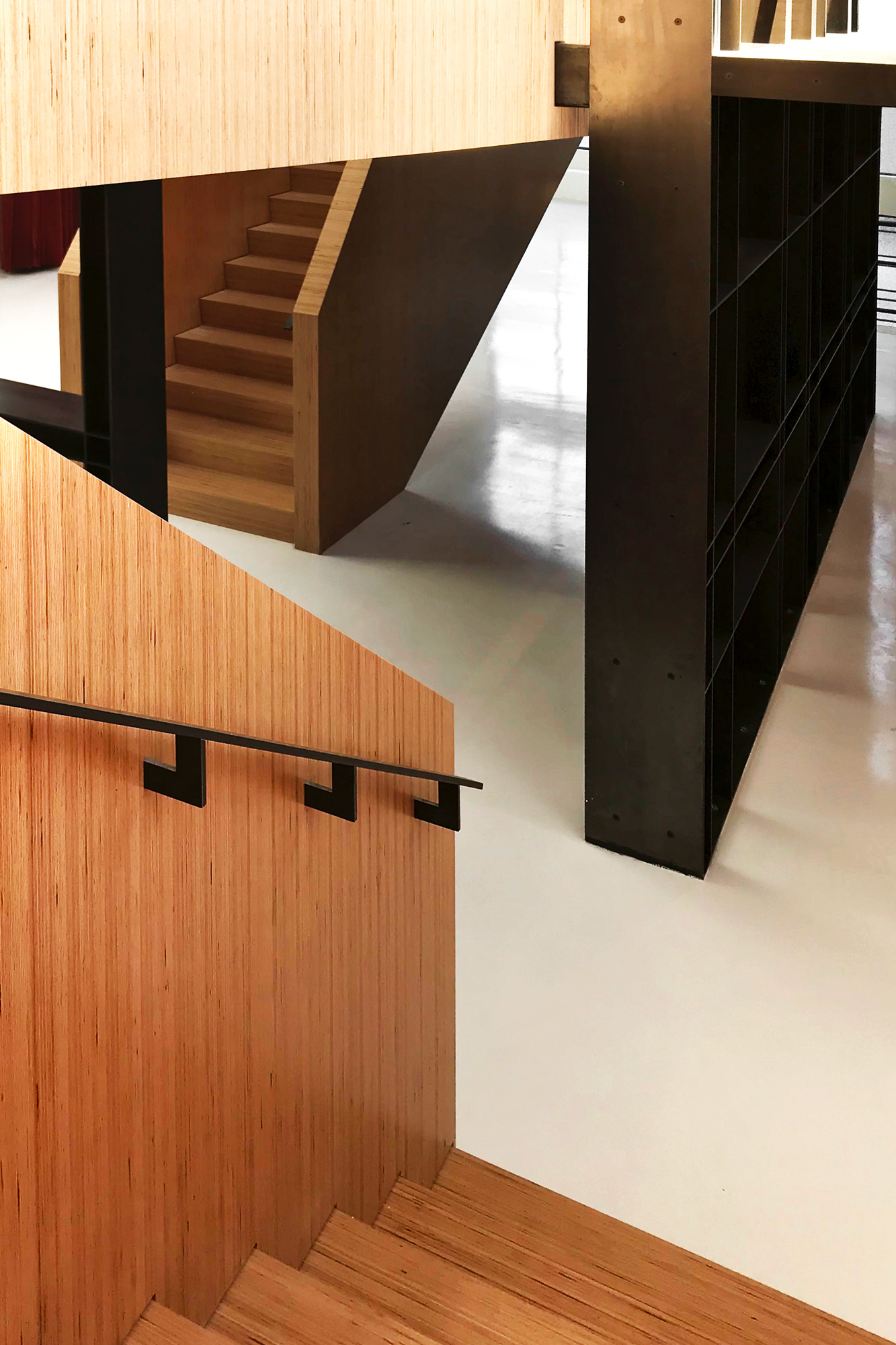 PROGRAM
This project, designed by Chapman Taylor and Claudio Lucchin Architetti & Associati, was won in an international competition held by the Provincia Autonoma di Bolzano to develop the city's new Science and Technology Park in the Ex Alumix area, the largest aluminum production site in Italy. 
The new intervention involves the refunctionalization of 36,400 sqm of built area, divided between the restoration of two existing buildings, built in Bauhaus style and subject to architectural and artistic protection, and the construction of a new office building. The latter, called "Monolith" is characterized by an aluminum foam facade, which has the function to create an architectural bridge between past and future.
Our task consisted in the definitive and detailed design of all the interior custom made furniture for the office areas distributed over 5 floors.
Focus of the interior project were boxes made of veneered wood and insulating glass, equipped with internal mobile devices that allow to have different degrees of visual permeability and openness. These wooden boxes intersperse areas more purely dedicated to work and furnished as open spaces with wooden custom made phone booths, recreation and refreshment areas.
As an extension of the design assignment for the new Science and Technology Park in the Ex Alumix area, we have designed custom made furniture that host the University of Bolzano library, the study room and the external structures to equip the park's public square.
The library and study room is an imposing steel, wood and glass body located under a 10-meter high industrial space, positioned independently without touching any of its walls. It consists of three boxes whose supports are uprights made of steel plates bolted and welded together to form supports for books. A sort of load-bearing bookcase that loads the individual reading areas, reachable through an aerial walkway made with a structure in steel profiles and laminated wood cladding: two stairs also covered in laminated wood are located at both sides of the walkway.
Lightness and solidity are at the same time the expression of a design that aspires to mean that culture is a path in continuous evolution and growth, supported by stable and reliable feet.
DATA
Location: via A. Volta 13, 39100 Bolzano – Italy
Year: Schematic Design 2015 / Detailed Design 2015 – 16 / Construction 2017
Area: 34.000 sqm
Client: Chapman Taylor Architetti
Architectural Project: Chapman Taylor Architetti, CL&AA 
Design Partner: Arch. Francesco de Felice
Structure: Ing. P. Cristofolini, Ing. P. De Biasi Construction 
Construction Security: Geom. Andrea Cattacin
Photography: Noname Studio S.r.l.s.